4/20/22 – H.I.G.H Noon Signature Event Webcast on Professional Development
April 20, 2022 @ 12:00 pm

-

1:00 pm

PDT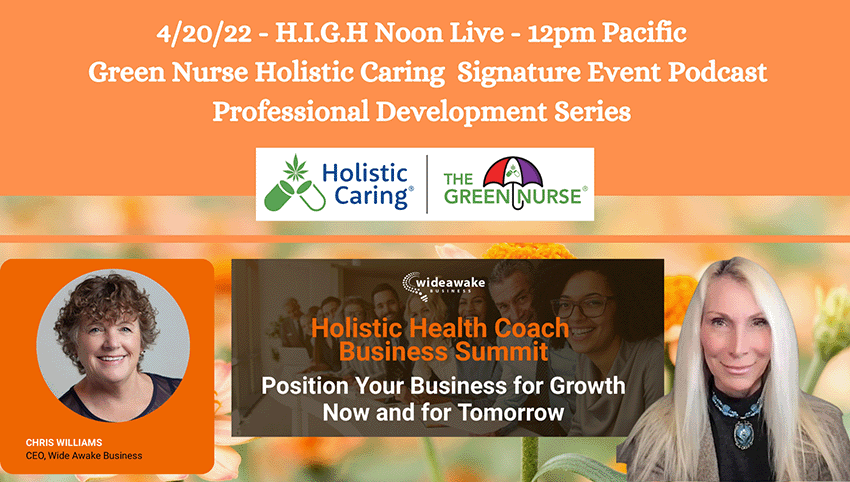 Are you a Nurse or Holistic Coach wanting to open your own coaching practice? Are you big on purpose and mission but light on details and structure?
Join us at Holistic Caring Network on Wednesday 4/20/22 as we feature Chris Williams with an exciting offer from Wide Awake Business (WAB). Chris will preview a 4-week summit where you will walk away with all you need to get started!
Week 1 = Create your Roadmap for Success
Week 2 = Know your numbers to create and refine your business
Week 3 = Expand your referrals to grow your practice
Week 4 = Build your team and leverage your time
Don't miss this exciting opportunity to live your dreams and fulfill your mission!
https://www.wideawakebusiness.com/summit/hcn
Join Sherri Tutkus RN, BSN and VP of Nursing at Holistic Caring as she interviews Chris Williams on a special edition of The Green Nurse Podcast on 4/20/22 at 12pm PST (High Noon)
Click here to view the live event and then return to HCN to replay anytime!
This is for our LCHC Coaches & all guests considering adding cannabinoids to their practice! We have special HCN pricing for this 4-week program of $420 (full price $710)